The demand for the halal cosmetics market has risen all over the world, especially in Muslim-dominated countries like the UAE, Saudi Arabia, Indonesia, Malaysia, Turkey, and others. The OEM cosmetic manufacturers in the halal cosmetics industry have expanded their product lines to significantly tap into this ever-booming market.
Halal-certified beauty is a thriving industry, with a projected worldwide turnover of USD 74.7 billion in 2020. Halal cosmetics sales are expected to grow at a 9.6% CAGR through 2026, owing to rising religious awareness among younger Muslim consumers and the world's growing Muslim population.
To this point, the biggest market for halal cosmetics and personal care products has been in Southeast Asia.
The Malaysian and Indonesian halal cosmetics market (C & T Industry)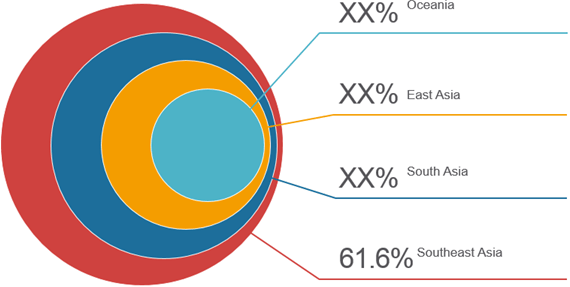 Malaysia and Indonesia lead the charge in the Asia-Pacific (APAC) region, which accounts for the greatest share of this booming industry.
There will be 32.7 million people in Malaysia in 2021, and almost 60% of them will be Muslims.
The Malaysian halal beauty industry is one of the largest in the ASEAN region, even though Malaysia is a small country with only 32.7 million people.
Indonesia is the world's largest Muslim-majority country with a population of over 275 million people and an estimated 87% of its Muslim population.
In recent years, the halal beauty sector in both nations has grown significantly, with Indonesia having the largest consumer market.
In 2020, consumer spending reached USD 184 billion, with USD 4.19 billion spent on cosmetics and toiletries (C & T).
During the next five years, halal-certified cosmetics are expected to outperform the non-halal cosmetics market.
The whole Indonesian C & T industry is worth about USD 6.34 billion.
The Halal Beauty Industry in Indonesia
While halal certifications in cosmetics are still in the early stages, the number of halal-certified food products in Indonesia has consistently increased in recent years.
Only 64 cosmetics manufacturers had received halal certification in 2017. This number increased to 129 brands in 2018, 162 in 2019, and 214 in 2020, including Indonesian and foreign brands.
The Indonesian halal product law, which covers cosmetics, foods, and non-food items and services and went into force in 2019, is one of the drivers of this development.
All foreign beauty products supplied or sold in Indonesia are considered non-halal unless they have been certified in Indonesia or by an authorized foreign certification authority, according to this set of rules.
While cosmetics companies have until 2026 to completely apply the rule, local and regional halal cosmetic manufacturers have already started.
The Recent Development of the halal cosmetics market
In recent years, the Indonesian halal cosmetics and toiletry industry has been brightened by a slew of contemporary, youthful local beauty businesses.
While halal businesses tended to be conservative and staid 15 years ago, the current generation of female-founded beauty brands is in a league of their own, dazzling their digitally native population with innovative products and ultra-stylish packaging.
BLP Beauty, which was founded by popular beauty blogger Lizzie Parra in 2016 and offers a range of inclusive hues for the many diverse skin tones of Indonesian women, is one of the most well-known beauty brands.
In the country's hot and humid environment, the products are very light and easy to wear.
Luxcrime, which was established in 2017, offers skincare and cosmetics and is another beauty brand with a strong GenZ vibe and beautiful packaging.
The Halal Beauty Industry in Malaysia
Malaysia isn't far behind its neighboring country when it comes to halal beauty.
Malaysia has the fourth-largest economy in Southeast Asia, despite its relatively smaller population.
It is also one of the top five Muslim consumer markets in the world.
Moreover, it's one of the largest certification agencies in the region.
The Malaysian government has made a lot of efforts in the last decade to expand and promote the country's halal manufacturing ecosystem, making Malaysia one of the best places to make halal cosmetic OEM/ODM products.
Malaysia's modern halal beauty business, like Indonesia's, is fueled by the influx of new and trendy cosmetics and skin-care brands in the last five years.
These brands are mostly owned by women, made in the U.S., and aimed at young, urban women who want to look good.
SO.LEK, which debuted in 2016, is a fantastic example of this new type of beauty business.
Dahlia Nadirah and Luqman Hakim, the company's founders, intended to establish an inexpensive beauty line that celebrated Malaysian culture and customs rather than the more typical foreign or anglicized brand atmosphere.
SO.LEK's products and hues are titled in Bahasa Malaysia rather than English, and the brand name is derived from the Malaysian term for makeup.
Nita Cosmetica, which debuted in 2016, shares a similar brand idea.
Aznita Azman, the beauty brand's founder, wanted the packaging and product names to reflect Malaysian culture and values.
Her line has colors that are both accessible and affordable for people with a wide range of skin tones.
Verdict: The Outlook of the Halal Cosmetics Market in Malaysia and Indonesia
The APAC region's halal beauty sector has a highly promising future.
By 2050, the APAC region is predicted to have a population of about 1.5 billion Muslims, and by 2027, APAC will have the largest proportion of double-digit halal cosmetics industry growth, reaching USD 104 billion.
The ASEAN halal beauty industry is more lucrative than ever, with so many interesting new regional beauty brands launching.
Local shoppers are increasingly turning to halal-certified cosmetic products as they desire safe, clean, and halal products.
This growth will keep the halal beauty market going strong because many ASEAN people are concerned about the safety of the ingredients in their products.