Global Cosmetics Original Design Manufacturing (ODM) Market, By Product Type (Skin Care, Hair Care, Body Care, Makeup, Fragrances, Cologne), Type (All Process ODM, Half Process ODM), Packaging Format (Bottles, Compact Cases, Droppers, Folding Cartons, Jar, Pallete, Pouches, Pumps and Dispensers, Roll On, Roll on Sticks, Sachet, Sticks, Tube, Wraps, Others), End User (Prestige Brands, Mass Brands, Indie Brands, Private Labels) – Industry Trends and Forecast to 2030.
Cosmetics Original Design Manufacturing (ODM) Market Analysis and Size
The cosmetics industry is increasingly investing in R&D and new product development. The cosmetics sector is being revolutionised by technological breakthroughs in every facet, from packaging to product ingredients. industry players in cosmetic ODM are gradually increasing their innovation via intensive R&D operations in an effort to get a competitive edge in the industry. Sales and market expansion are also expected to benefit from the rising popularity of high-end cosmetics as well as skincare and suncare goods.
According to projections made by Data Bridge Market Research, the original design manufacturing (ODM) market for cosmetics would grow from its 2022 valuation of USD 53142.68 million to reach USD 80940.96 million by 2030, recording a CAGR of 5.40% between 2023 and 2030. Expert analysis, import/export analysis, pricing analysis, production consumption analysis, and consumer behaviour are all included in the market report curated by the Data Bridge Market Research team in addition to the usual market insights such as market value, growth rate, market segments, geographical coverage, market players, and market scenario.
Cosmetics Original Design Manufacturing (ODM) Market Scope and Segmentation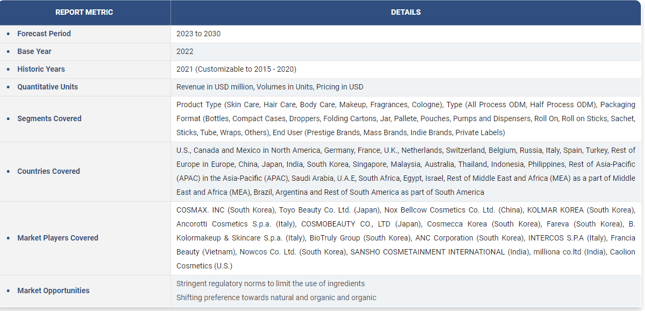 Defining the market
Another term for "original design manufacturing" (ODM) is "private labelling." In this scenario, a wholesaler selects an already-made product from the manufacturer's catalogue. After that, they tweak the product's design slightly and release it under their own label. Alterations may include new or different product packaging, bundles, or branding, as well as cosmetic or even functional tweaks to the product.
Cosmetics ODM Market Dynamics and Influencing Factors
Increase in the sale of hair care items
Increases in reported incidences of hair loss, hair damage, and hair thinning are driving new trends in the global need for hair care products. Extreme hair loss is being attributed to air pollution, with studies showing that common contaminants lower protein levels in hair. Proteins play a crucial role in hair's development and maintenance. Natural oils are commonly used in hair tonics because of their beneficial effects on preventing split ends, protecting the scalp, and lubricating the hair. Additionally, hair tonics help with hair styling, which is quite on-trend right now because of the power of social media. As a result, the market is expected to expand on the back of increased demand for hair care products.
There are several positive aspects of the cosmetics ODM industry
Cosmetics original design manufacturing (ODM) companies help businesses with fewer resources to develop and produce their own cosmetics by turning their formulations and ideas into finished goods. In this model, ODM firms handle everything from prototype creation and testing through research and development and product concept development. The ODM notion is, in essence, the inverse of the OEM approach.
Opportunities
Strict rules governing the number of allowed substances
There is a wide variety of substances found in cosmetics. Cleansing agents, cosmetic preservatives, and specialised perfumes are all included. In order to reduce exposure to harmful substances, regulatory agencies are continually taking new measures. They have put a premium on using all-natural and organic materials. Governments have implemented strict restrictions and regulations for the use of natural components, which has shifted the attention of cosmetics makers towards the creation of organic cosmetics. This is a key driver that offers tremendous potential for the expansion of the market.
Natural and organic foods are gaining popularity
The cosmetics OEM/ODM market stands to benefit from the rising demand for all-natural and organic beauty products, especially in the developed economies of the United States and Europe. Opportunities for producers to develop and design new herbal, natural, and organic beauty products in response to rising customer demand for these types of products are on the rise.
Limitations/ Obstacles
Negative impacts and expensive price tag
A major reason that could slow the expansion of the cosmetics ODM market is the expected rise in the price of cosmetic products and the availability of counterfeit products. In addition, many cosmetic product adverse effects may hinder the market's expansion between 2023 and 2030.
Information about new trends, trade regulations, import/export analysis, production analysis, value chain optimisation, market share, the impact of domestic and localised market players, analysis of opportunities in terms of emerging revenue pockets, changes in market regulations, strategic market growth analysis, market size, category market growths, application niches and dominance, product approval, and more can all be found in this report on the original design manufacturing (ODM) market for cosmetics. If you're interested in learning more about the cosmetics original design manufacturing (ODM) industry, reach out to the experts at Data Bridge Industry Research for an Analyst Brief.
Recent Changes
Cosmax introduced a new eco-friendly, long-lasting, and high-gloss water-based nail lacquer in 2019. Cosmax, an original design manufacturer (ODM) in the cosmetics industry, has also jumped on the microbiome bandwagon by releasing an anti-ageing microbiome skincare collection.
The Potential of the Worldwide Market for ODM in the Cosmetics Industry
The original design manufacturing (ODM) market for cosmetics is divided into submarkets that specialise in different product types, package formats, and end users. The expansion of these submarkets will aid in the analysis of slow-growing industry subsectors and will give end-users a better grasp of the market as a whole and deeper insight into specific market opportunities.
Product Type:-
Skin Care
Hair Care
Body Care
MAKEUP
Fragrances
Cologne
Type:-
All Process ODM
Half Process ODM
Packaging Format
Bottles
Compact Cases
Droppers
Folding Cartons
Jar
Pallete
Pouches
Pumps and Dispensers
Roll On
Roll on Sticks
Sachet
Sticks
Tube
Wraps
Others
End User
Prestige Brands
Mass Brands
Indie Brands
Private Labels
Regional Analysis and Insights on the Cosmetics ODM Market
The global cosmetics ODM market is broken down by geography, product category, product type, packaging type, and end-user to reveal key insights and trends.
North America includes the United States, Canada, and Mexico; Europe includes Germany, France, the United Kingdom, the Netherlands, Switzerland, Belgium, Russia, Italy, Spain, Turkey, and the Rest of Europe; Asia includes China, Japan, India, South Korea, Singapore, Malaysia, Australia, Thailand, Indonesia, and the Philippines; and the Middle East includes Saudi Arabia, the United Arab Emirates, South Africa, Egypt, and Israel.
The original design manufacturing (ODM) industry for cosmetics is dominated by companies based in Europe due to the region's abundance of makers of personal care and beauty products.
During the projection period of 2023-2030, North America is expected to grow at the quickest rate because of the introduction of a regional variety of products in this area.
Current and potential market trends are affected by a variety of factors, some of which are detailed in the report's country section. Market scenarios for different countries are predicted using data points such as down- and upstream value chain analysis, technical trends, Porter's five forces analysis, and case studies. In addition, the impact of domestic tariffs and trade routes, as well as the presence and availability of global brands, are taken into account while offering forecast analysis of national data.
Analysis of the Cosmetics ODM Market Share and Competitive Landscape
The competitive landscape of the cosmetics ODM market includes information broken down by the company. Information such as the company's history, financials, revenue, market potential, R&D spending, new market initiatives, global footprint, production sites and facilities, production capacities, advantages and disadvantages, product launches, product ranges, and application dominance are all included. The accompanying information is specific to the original design manufacturing (ODM) market for cosmetics and the companies that serve it.
The cosmetics original design manufacturing (ODM) market is dominated by companies like:
South Korean firm COSMAX.INC.
Japan's Toyo Beauty Co., Ltd.
The (Chinese) Nox Bellcow Cosmetics Co., Ltd.
South Korea, or KOLMAR KOREA.
COSMOBEAUTY CO., LTD (Japan) Ancorotti Cosmetics S.p.a. (Italy)
The South Korean version of Cosmecca
South Korean company Fareva
Italian company B. Kolormakeup & Skincare S.p.a.
South Korean BioTruly Group
South Korean firm ANC Corporation
Italian firm INTERCOS S.P.A.
Vietnam's Francia Beauty
Nowcos (Korea) Co., Ltd.
MILLIONA CO.LTD. (India) SANSHO COSMETAINMENT INTERNATIONAL (India)
American Caolion Cosmetics.