Increasingly, Malaysian consumers value consumer health products such as vitamins, dietary supplements, and traditional health supplements believing that supplementation can improve their health and well-being. Indeed, Malaysian consumers are spoiled for choice when it comes to health supplements, given the vast selection of supplements and the presence of internationally recognized brands such as Nutrilite, Live-well, Blackmores, and VitaHealth on the local market. Additionally, manufacturers of vitamins and dietary supplements have increased the popularity of health supplements through aggressive advertising campaigns.
Market growth by product category
The retail sales of vitamins and dietary supplements in Malaysia doubled between 2005 and 2014, from RM940.4 million (USD248.3 million) to RM1.9 billion (USD572.6 million). Over the past decade, this represented a compound annual growth rate (CAGR) of 7.0%. In 2014, vitamin and dietary supplement retail sales increased 7.9% annually from 2013's total of RM1.7 billion (USD545.3 million), which was slightly above the 10-year CAGR of 7.0%.
Since 2005, retail sales of non-herbal/traditional dietary supplements have more than doubled, increasing from RM278.4m (USD73.5m) to RM576.2m (USD177.2m) This represented a CAGR of 7.5%, which was slightly higher than the industry's CAGR for the same period.
In the past decade, retail sales of herbal/traditional supplements, vitamins, paediatric vitamins, and dietary supplements grew at a slower rate of approximately 5%, below the industry average of 7%.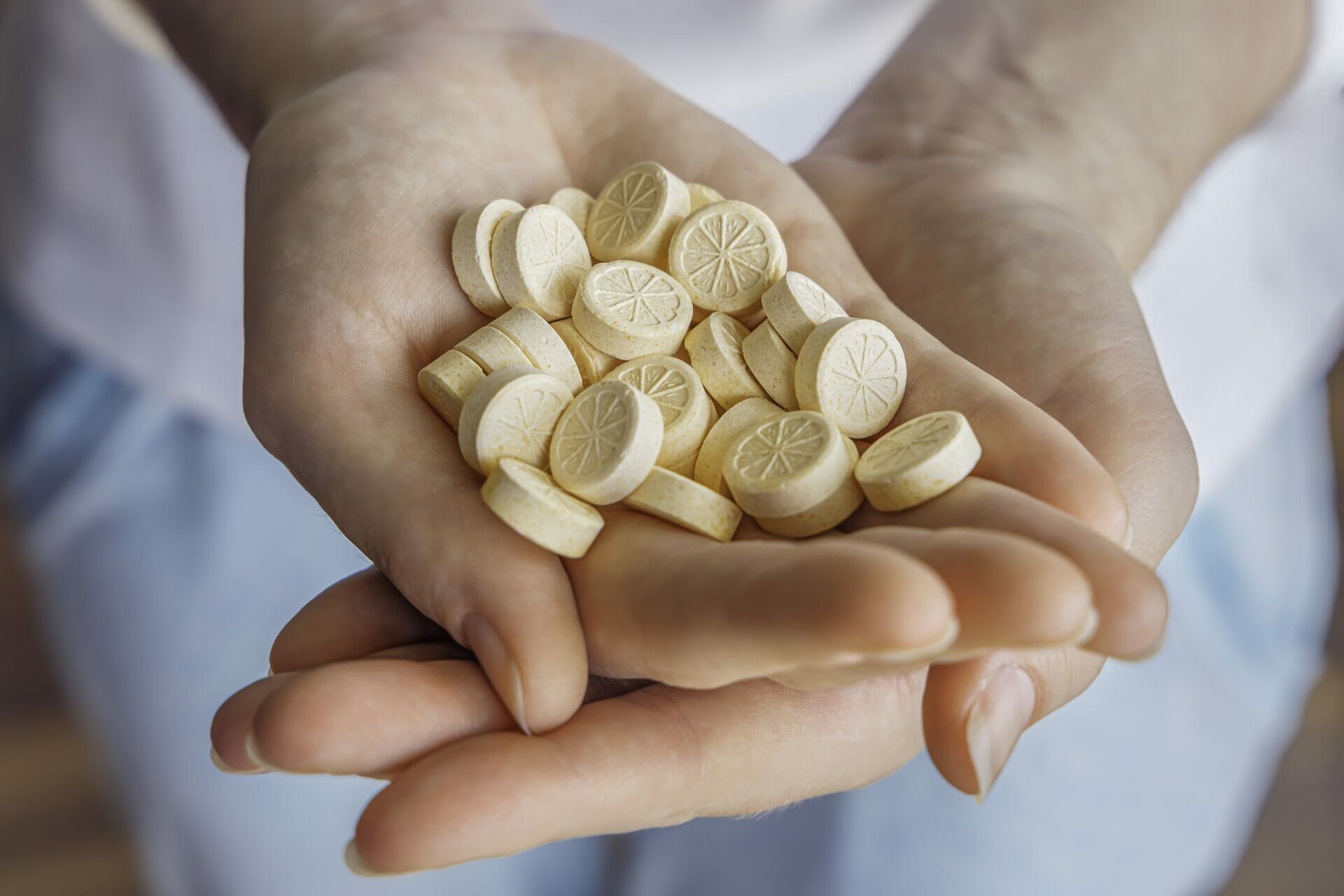 Market share by product category
In terms of market share, dietary supplements dominated in 2014 accounting for 58.3% or RM1.1 billion (USD333.9 million) of total retail sales. This is followed by vitamins, which accounted for 21.0% of the market in 2014 with retail sales of RM389.2m (USD120.2m).
In 2014, paediatric vitamins and nutritional supplements held the smallest market share of 2.7%, with retail sales of RM50,9 million (USD 15.7 million). Nonetheless, paediatric vitamins and dietary supplements are an emerging trend in Malaysia due to the increasing number of health-conscious parents who give their children supplements as part of their family's health routines. The most popular vitamin for children is vitamin C, while popular paediatric dietary supplements include fish oil, probiotic supplements, and colostrum health supplements.
Dietary supplements
Non-herbal/traditional supplements accounted for a larger proportion of sales within the category of dietary supplements in 2014, at RM576.2m (USD177.9m), or 53.3%, compared to herbal/traditional supplements, which accounted for the remaining sales at RM505.4m (USD156.0m), or 46.0%. In terms of market share trends, however, herbal/traditional supplements have seen a decline over the past decade. Herbal/traditional supplements dominated the market in 2005, accounting for 32.2% of total retail sales of RM302.7 million (USD79.9m). This decreased to 27.2% in 2014, with total retail sales of RM505.4m (USD156.0m). Herbal/traditional dietary supplements have substantially lost market share to nonherbal/traditional dietary supplements, tonics, and bottled nutritive beverages.
Vitamins
Multivitamins accounted for the majority of vitamin sales at RM243.4m (USD75.1m) or 62.5% of total vitamin retail sales in 2014, while single vitamins accounted for 37.5% of vitamin retail sales at RM145.8m (USD45.0m). Vitamin C was the most popular single vitamin in 2014, as it has been for several years, with sales of RM92.8 million (USD28.7 million). Indeed, Vitamin C sales accounted for more than 60% of single vitamin sales in 2014.
Key trends and developments
As discussed below, Euromonitor has identified three key trends and developments that are anticipated to impact the demand for consumer health products in Malaysia:
1. Herbal/traditional remedies will continue to be popular
Consumers' perception that herbal/traditional products are more effective and have fewer harmful side effects than non-herbal/traditional products will support the continued growth of herbal/traditional consumer health products in the Malaysian market, according to Euromonitor. In addition to cultural exposure to traditional products and family and friend influence, consumer confidence in their efficacy for self-treatment and disease prevention is also bolstered by exposure to traditional products.
In this regard, it is anticipated that Malaysian health supplement manufacturers will introduce more new herbal/traditional supplements to local consumers. By 2019, Euromonitor expects retail sales of herbal/traditional supplements to reach RM545.1m (USD168.3m), a 7.9% increase from 2014's estimated RM505.4m (USD156.0m). (Figure 2). In terms of market share, however, 2019 sales projections would indicate a slight decline from 27.1% in 2014 to 25% in 2019.
2. Changing lifestyles and demographic trends in Malaysia will affect the demand for healthcare products
The future demand for healthcare products will be influenced by a number of significant lifestyle and demographic trends in Malaysia. Malaysia, for instance, has the highest obesity rate in Asia, with 45.3% of its population classified as obese, according to a 2014 Lancet medical journal study. 49% of Malaysian women and 44% of Malaysian men were deemed obese.
This has significant implications for the prevalence of non-communicable diseases (NCDs) in Malaysia, such as cardiovascular disease and diabetes, as obesity is one of the most important risk factors for NCDs. According to statistics compiled by the World Health Organization (WHO), ischaemic heart disease and stroke accounted for more than 30 per cent of all deaths in Malaysia in 2012.
As the incidence of heart disease increases in Malaysia, consumers who are aware of the heart health benefits of consuming omega 3-6-9 fatty acids (fish and non-fish oils) may increase the demand for these supplements. RM94.8m (USD29.3m) in 2014 to RM113.6m (USD35.1m) in 2019, representing 5.2% of total retail sales of vitamins and dietary supplements in 2019.
Similar to other Asian nations, the Malaysian population is ageing in terms of demographic trends. By 2043, the percentage of the population aged 65 or older will have doubled from 7% in 2020 to 14%. In an ageing population, the incidences of osteoporosis and osteoarthritis are projected to increase, which could lead to a rise in demand for supplements such as calcium and glucosamine, which are known for their ability to promote healthy bones and joints.
3. Innovations in technology to facilitate a rise in demand for healthcare products
According to a survey conducted by Google and TNS, a global market research firm, Malaysia is one of the top five countries in terms of smartphone usage, with a smartphone penetration rate of 51% compared to 39% for computers. 35% of Malaysian smartphone users surveyed rely solely on their smartphones to access the Internet. Moreover, according to World Bank data, Malaysia's internet penetration rate in 2014 was 67.5%, which was higher than the majority of its ASEAN neighbours, excluding Singapore (82.0%) and Brunei (68.2%).
The high level of internet savvy among Malaysians could have a twofold effect: first, by increasing the awareness of health-related issues, especially with the advent of popular health websites such as MayoClinic.com, WebMD, and Mercola.com; and second, by increasing retail sales of health care supplements through online channels. Consequently, technological advancement in Malaysian society may result in an increase in the demand for healthcare products.